8MR191-SM
The SM system is a complete, compact and user-friendly control system. It integrates a Brushless D.C. Servo-Motor (BLDC), Motion Controller, Drive- Electronics, Position Feedback Encoder and Fully Programmable Points of I/O (Inputs/Outputs). All these components are placed inside one integral frame or housing.
Each decentralized drive system is fully programmable as a stand-alone system or as part of a network fieldbus - Profibus, DeviceNet or RS232, RS485.
The integration of motor, controller and drive reduces complexity in an application and significantly increases reliability. The command set and firmware enables the SM system to perform a wide range of motion controls, arithmetic and conditional logic functions. The unit is a highly capable, stand-alone, complete motion control system that is easy to implement and use.
The SM system has more features than most full-size controls:
- Brushless DC servo motor
- S-232 & RS-485
- Stand alone capability
- Torque to 2000+ oz. in. / 15 NM
- 4kHz PID
- Speeds 0 - 10,000 RPM
- CE marked & UL registered
- Expandable and programmable I/O to 800 inputs and 800 outputs
- On-the-fly parameter changes
- Position Mode
- Velocity Mode
- Torque Mode
- Infinite Ratio Gearing
- Electronic Gearing/ Following Mode
- Step & Direction Mode
- Limit switch inputs
- Closed loop on external encoder
- Single voltage input
- Standard NEMA mount
- 32k user EEPROM
- Software current limit
- Thermal protection
- Easy Windows Software
- Contouring mode from host PC



8MR190-2-SM





8MR191-30-SM
*Cable supplied with 8MR190-2-SM and with 8MR191-SM series consists of power cable and RS232 communication cable and includes connector to computer RS232 (DSUB9), connector to motor (DSUB 7W2) and power connector (SOCKET DC 2.1/5.5 mm for Cable).
Stages equiped with SM motor system require PS36-4.4-4 power supply.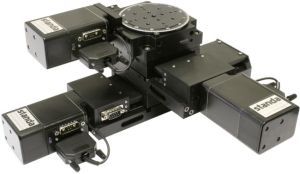 Assembly example



OBJECT>