Y-Z Positioner for Lens, Pinholes and Objectives 5ZYP are compact mounts designed to precisely position optical components in the plane orthogonal to the optical axis. Ideal for microscope objectives, mounted pinholes, fiber optics chucks, and diode lasers. The mounts provide 5 mm translation with sensitivity of 2 µm. Two Standa adjustment screws are used for positioning. They can be replaced with any screw or micrometer with M10x1 mounting thread.
The stage comes with 9S65M screw as standard. You don't have to specify this screw in your order. If you order the stage with alternative screws, please specify this in order, by appending the screw code name to the stage code. See section "Fine Adjustment Screws" for screws and their codes. Two ways to fasten 5ZYP: by an M6 hole; on a connecting cone 3CC4, 3CC6 by a Ø7 hole. Material: black anodized aluminium.
Insert rings for 5ZYP


| | | |
| --- | --- | --- |
| Model | d | C |
| 5ZYP-1 | 25.5 | 24 |
| 5ZYP-2 | 51 | 48 |

Insert ring W0.8 is made with 0.8"-36 RMS thread for microscope objectives.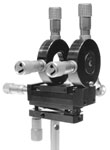 Precision Spatial Filter
10SF130