Small Optical Mount of Side Drive 5OM10T is designed to hold optics in schemes of high density. Adapters are available for round and rectangular lenses, mirrors and beamsplitters or polarizing cubes (see below). The unit mounts on one M4 hole in its base. Special Base Mounts (see below) and standard ones are available in order to mount the unit in various orientations. A platform has four M3 holes on its face for mounting of optics, and three M4 holes on the sides for adapters. Adapters with connecting cones match the Ø6.2mm hole, where the fixing screw clutches a cone. A platform is preloaded against a base by coil springs. The mount is held together and stabilized by a flat spring.
Note: 5OM10T replaces the older mount 5OM100T. The pictures on this and on the next page show how to combine bases and adapters with the old mount 5OM100T. These adapters combine in the same manner with the new mount 5OM10T.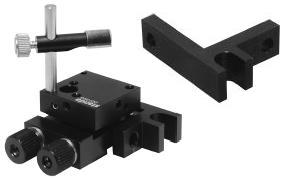 5OM100B1 allows mounting with extremely low profile.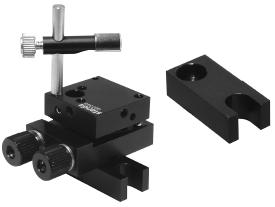 5OM100B2 attaches to 5OM10T both immediately and through the intermediate accessories.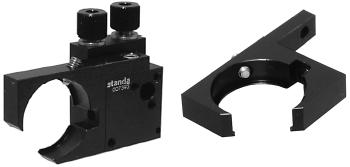 5OM100A1 may be attached to the platform of 5OM10T mount on any side. Optics is firmly held by a stainless steel fixing screw, and it resists against two contact lines - the edges of the cut-off corner. The frame doesn't obstruct the view. It allows working with two beams going very close to each other.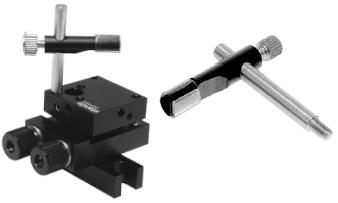 5OM100A2 Ideal if the mount is used as a tilt platform. It has a fixing screw, and a plastic clutching pad. Allows clutching of optical elements up to 1". The rod has a mounting thread M3. So the clamp combines with any units, which has M3 holes.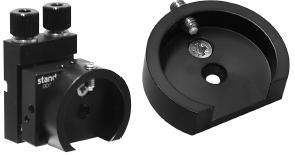 5OM100A3 connecting cone facilitates adjustment of the adapter to the required position. The cut-off side clears the edge of the optics for working with a beam very closely situated to another beam. A fixing screw of stainless steel clutches optics firmly against two contact lines formed at the cut-off side.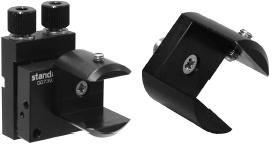 5OM100A4 connecting cone allows to adjust the adapter to the required angle by hand. The adapter allows working with two beams going close to each other. Stainless steel fixing screw clutches optics firmly. There are two models: 5OM100A4-13 and 5OM100A4-16 (apertures 13 and 16 mm).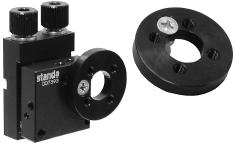 5OM100A5 allows turning optics to a convenient position.