A Steel Optical Rail System 10ORS6 consists of inter-compatible mechanical elements. The optical rail is the main consolidating element. All elements have adapters, corresponding to rails for mounting between each other. All connections are very simple, quick and reliable. This also provides coarse positioning possibility. The system consists of these elements:
- different lengths black finished steel Optical Rails 2OR6;
- two different widths black finished steel Rail Carriers 2RC6;
- black finished steel Sliding Rail Carrier 2SRC6-50;
- black finished steel Mini Rail System Ball Slide Positioners 7T8- 01 and 7T8-02;
- black anodized aluminium Mini Rotation Stage 7R7.
It is possible to combine various numbers of elements. All elements are inter-compatible and can be used separately with any STANDA mechanical elements, because they are provided with M6 tapped holes pattern. Optical Rails can be mounted onto STANDA optical tables either directly, or using any other base elements. STANDA's Rail System's flexibility is shown in the photos below. Besides the accurate 5mm motion regulation, knots have the possibility of rough positioning by ±15 mm.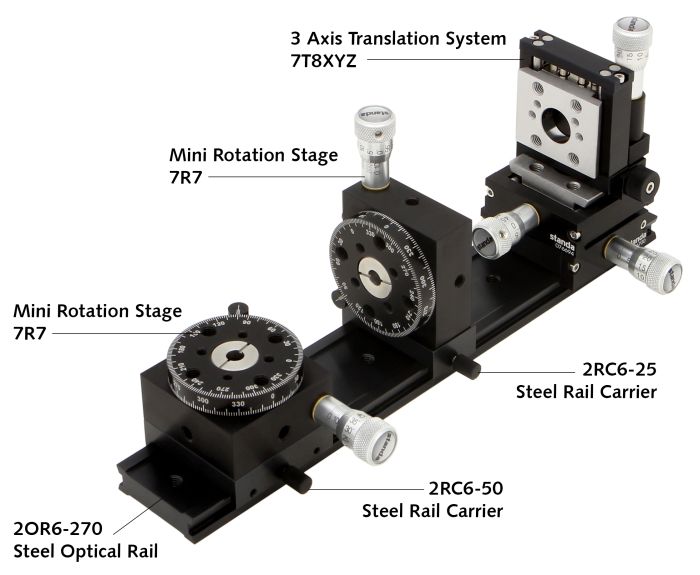 Links: 2SRC6, 2OR6, 2RC6, 7T8, 7R7,