Standa's diffraction limited Galilean type beam expanders offer variable magnification of 2x-12x or other ranges (see table below) with adjustable focus to correct laser beam divergence. All adjustments can be made quickly and easily by hand using our unique zoom and focus scale engraved directly onto the beam expander. No special tables or fine adjustment curves are required.
Standa's experience in designing and manufacturing fine mechanics for many years reflects on 10BE03 zoom and focusing mechanisms. Frequent set-up changes without compromising optical and mechanical performance are common to 10BE03 series.
For those who don't need frequent set-up changes we may offer a simplified version of 10BE03. Optical performance is the same as for 10BE03, but zoom and focusing mechanisms are designed for using with beams with nearly constant parameters (beam diameter and far-field divergence).
Mounting our beam expanders has become easier than ever. You can chose a variety of mounts from our 5KOM, 5TOM, 5TLM-1TH.
Should you require a custom solution to fit your application, please contact us for details. Our experienced personel will perform optical scheme calculations for your beam expander. Both - optics and mechanics - are manufactured by Standa.
Our currently settled "customer-inspired" modifications include:

• Dual wavelength Beam expanders:
1064 nm/532 nm
1030 nm/515 nm
800 nm/400 nm
other wavelengths available as well.
• Input side with Fiber Connector installed (FC/PC or SMA905)
• Reflective type Beam Expanders.
• Output apertures up to 6".
• Beam expanders with 1x-8x-expansion ratio.


10BE03-1.5-5

Typical applications include:

• Micro drilling
• LIDAR systems
• Beam condensing
• Colimation of laser harmonics
• Cutting of solar cells
• Laser structuring of foils
• Interferometers
• Colimation of high power laser beams

General specifications

• Optics Material: FS or UVFS. CaF2 (optional), ZnSe (optional)
• Housing material: Aluminium
• Standard wavelengths: 355 nm, 515 nm, 532 nm, 780 nm, 800 nm, 1030 nm, 1064 nm
• Transmitted wavefront distortion: λ/4 p-v at 633nm over clear aperture
• Damage threshold: >8 J/cm2 for 10 ns pulses @ 1064 nm
• Transmission: 97%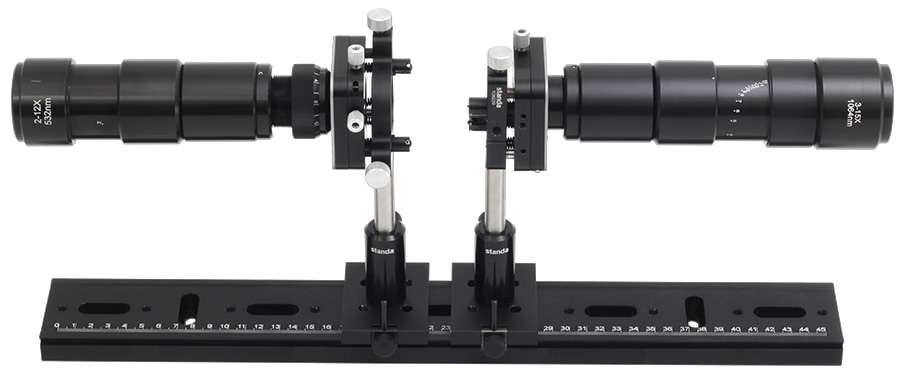 Variable laser beam expanders (2-12X (left); 3-15X (right)) mounted in 5KOM5F-1 (5-axis strengthen optical mount) , 5KOM4F-1 (4-axis strengthen optical mount)
Model
Expansion ratio*
Input Aperture,
mm
Output Aperture,
mm
Length (without caps),
mm
Housing diameter (max),
mm
Mounting thread
10BE03-1.5-4
1.5-4x
12
16
110-120
28
M27x1
10BE03-1.5-5
1.5-5x
7
30
130
45
M27x1
10BE03-1-8
1-8x
8
40
150
60
M27x1
10BE03S-2.5-8
2.5-8x
5
25
110
45
M27x1
10BE03-2-8
2-8x
11
36
130-150
50
M27x1
10BE03-5-8
5-8x
12
16
110-120
28
M27x1
10BE03-2-12
2-11.6x
11
36
130-150
50
M27x1
10BE03-3-15
3-15x
11
36
170-190
50
M27x1
*Expansion ratio range could differ for some wavelengths.
When ordering, please specify desired wavelength in comments field of the request form.