The SHR-IR spectrometer is an ideal instrument for measuring absolute wavelength value of pulse and CW lasers and diodes in the spectral range 600nm-1800nm. The SHR-NIR allows detecting FWHM of the spectral line with resolution of 4 000 (λ/Δλ, FWHM) which constitutes 0.15nm for 600nm to 0.5nm for 1800nm. The SHR-NIR also ensures on-line monitoring of the above values in the process of tuning the analyzed wavelength.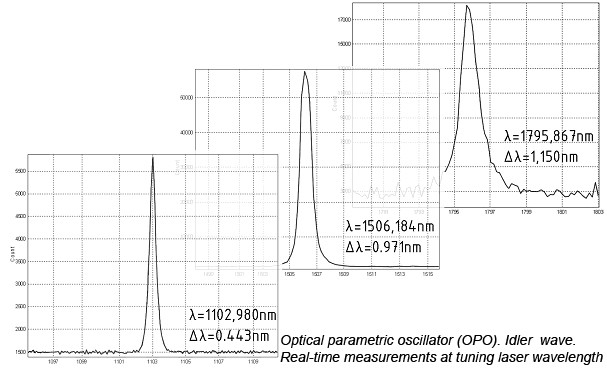 The instrument does not contain any moving elements; powering and control are performed from a computer via the Full-Speed USB interface. Analyzed light is steered to the entrance slit either via a multimode optical fiber with a diffuse attenuator (included in the delivery set) or directly, without any fibers.
In respect of resolution and wavelength measuring precision the SHR-NIR is an alternative to a monochromator-spectrograph with focal length not less than 500mm, equipped with an appropriate IR-detector.
But unlike the monochromator, the SHR-NIR has no moving elements and provides real-time measurements without scanning. The SHR-IR is solid, stable and precise, ensures absolute reliability and has more reasonable price.
The SHR-NIR spectrometer is indispensable in the process of adjustment, alignment and testing of laser systems operating in the near IR spectrum range.