3PH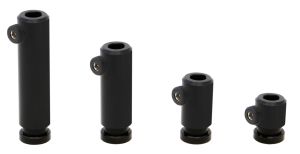 3PHB
Aluminium Post Holders 3PH have a precise mounting opening for mounting posts 12 mm (Ø0,5'' in imperial) in diameter. It provides two lines of contact, thus the position of a precision mounting post becomes definite. A mounting post is locked in position by a screw (included). The post holders 3PH can be mounted to other components using screws, or to breadboards and tables directly using adapters 3AH.
We offer a New Original Design of Post Holders 3PHB, which offers more usage convenience and flexibility. This solution was influenced by many requests for more compact optical schemes. Previous design is modified by introducing a slot, which allows clamping post holders to mounting surface using clamps like 3UTC, no additional parts required. Width of post holder with clamp does not exceed 25mm (1").

Left: 3PH/3PHB standard clamping version with additional round base plates 3RBP.
Right: New original Standa solution. 3UTC clamp and new post holder 3PHB
All possibilities of using post holders 3PHB as in previous design 3PH remain.
We draw your attention to very convenient, fast and flexible use of post holders 3PHB in experiments together with Compact Magnetic Base 3CMB, eliminating the need of coarse positioners.