5OM122B1 allows mounting with extremely low profile. 5OM122B2 attaches to 5OM122T both immediately and through the intermediate accessories.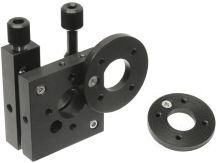 Platform Adapter 5OM122A5
Allows to turn optics to a convenient position.


Prism and Polarizing Cube Adapters 5OM100A4.
Connecting cone allows moving the adapter by hand and adjusting it to the required angle. Adapter allows working with two beams situated very closely. Stainless steel fixing screw clutches optics firmly. There are two models: 5OM100A4-13 (aperture 13 mm), and 5OM100A4-16 (aperture 16 mm).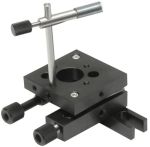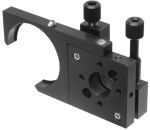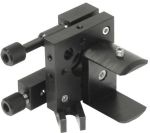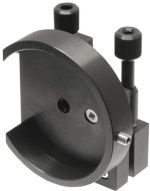 Ideal if a Mount is used as a Tilt platform. Plastic clutching pad clamps elements up to Ø40 mm (1.5").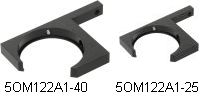 5OM122A1 may be attached to the platform of 5OM122T mount on any side. Optics rest on the two contact lines – the edges of the cut-off corner – and is firmly held in place by a stainless steel fixing screw. Frame doesn't obstruct the view. It allows working with two beams situated very closely. 5OM122A1-40 fixes thin optical elements Ø30-Ø40mm in diameter. 5OM122A1-25 fixes elements Ø20 to Ø25 (1") in diameter.


5OM122A3 Connecting cone facilitates adjustment of the adapter. The cut-off side clears the edge of the optics for working with a beam very closely situated to another beam. Optics is firmly clutched by a stainless steel fixing screw and rests against the two contact lines formed at the cut-off side. The adapter is suitable for optical elements Ø40-Ø50mm (2 inch) in diameter.