Adjustable Beamsplitter Mount of Side Drive 5BM59T-1 complements our range of Series T mounts with additional features, e.g. pick-hollows, or yet more stabilized spring. The style of the mount relates to such units as 5APH59T-1 and 5MBM21-1. The mount accepts optics 25.4 mm in diameter. Optics is stopped by a rest-flange inside the central aperture of the platform, and is secured by a steel hex fixing screw. The fixing screw has a hard plastic tip to prevent damage to the optics. To allow an unimpeded access for your fingers there are two pick-hollows. No more hassle and stains while picking the optics out... No more dropping the optics before you put it in securely. Pick-hollows form two contact points in the aperture. Clamped by the fixing screw, optics rests against these two points, so its position stays definite. Angular adjustment range of tilt/tip is ±2°. Side control of tilt and tip is done by two stainless steel fine adjustment screws with pitch of 0.25mm. The screws push rolling balls against hardened seats, ensuring smooth operation and sensitivity of 3 arcsec. Large knobs of the screws ease the strain on you fingers that this stabilized system might cause. Both screws protrude from the top. This control from a side allows easy access, and dense placement of surrounding instruments. The platform is preloaded against the base with L-shaped flat spring of our original design which renders the great stability and eliminates induced polarization. Three M4 tapped holes on the sides of the base and on its back allow a variety of mounting configurations, e.g. horizontal and vertical. The holder easily mounts on posts and bases. The holder is made of black anodized aluminium. L-shaped spring is made of high quality stainless spring steel.
3 mounting holes allow different mounting orientations (see drawings)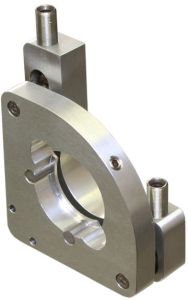 Compatible with 10-6 Torr vacuum.