Adjustable Height Platform 5VT173-25 of original design is a stable vertical translation stage of 25mm travel range. Maximum load capacity – 3kg. A polished lead screw has 0.5 mm pitch. It allows defining the height of a platform with 20 µm sensitivity. Arrays of mounting holes M6 and Ø6.5 with 25mm spacing are identical on the upper and lower plates. Adjustable Height Platform is ideal for use with 7T173-50 or 8MT173-50 Translation Stages when it is necessary to define one or two horizontal coordinates at a certain height. The platform is produced from black anodized aluminium, the lead screw block is produced from stainless steel and bronze.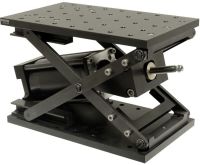 Motorized Vertical Translation Stage 8MVT188-20
5VT173-25 is renamed to 7VT173-25 and moved to this page.